INVOLVE 2018 - Call for Applications now open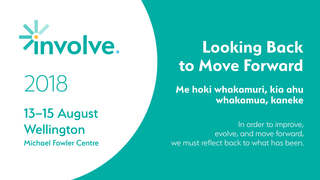 Involve, New Zealand's national youth development conference will be back in 2018. Ara Taiohi, the Peak Body for Youth Development is teaming up with
Syphanz, The Society of Youth Health Professionals Aotearoa New Zealand
The Collaborative for Research and Training in Youth Health and Development, and
NZ Youth Mentoring Network
to bring you this conference in Wellington, 13 to 15 August 2018 at the MIchael Fowler Centre.
Calls for Applications to Present at Involve are now open! Further information can be found here: bit.ly/InvolveCall. Also included on this webpage are the fees for earlybird registrations. Please note that registrations are not live yet!
Check out all this and more at bit.ly/Involve2018 or on Facebook and please send it around to your network.