Guide to Effective and Safe Practice in Youth Mentoring, Aotearoa New Zealand, 2nd Edition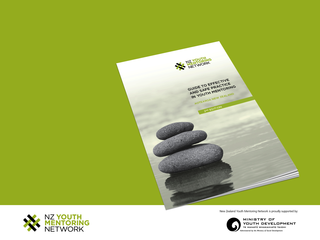 June 2016
The New Zealand Youth Mentoring Network is delighted to announce the launch of the second edition of the Guide to Effective and Safe Practice in Youth Mentoring, Aotearoa New Zealand.
The first edition, published in 2008, was a benchmark document that drew together essential knowledge for New Zealand's emerging youth mentoring sector.
The 2nd edition has been refreshed and updated with the latest research in effective youth mentoring practice, and the new safety checking and child protection policy guidelines introduced as part of the Vulnerable Children's Act 2014.
Our aim, in producing the 2nd edition is to provide a single Guide for New Zealand that seamlessly promotes safe and effective practice in youth mentoring to help ensure positive outcomes for young people
You may download a .pdf version of the Guide here.
NZYMN Effective Practice Guide, 2nd Edition
To order a printed copy of the Guide, plese send an A4 stamped addressed envelope to:
New Zealand Youth Mentoring Network
P O Box 99726
Newmarket
Auckland 1149
Standard postage is $3.00