INVOLVE is back for 2020!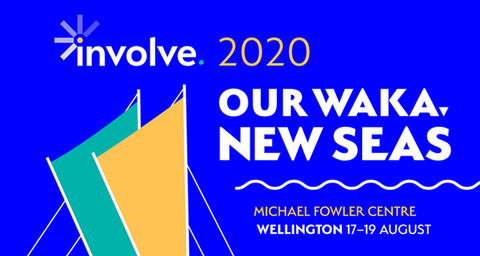 We are really excited to announce INVOLVE is back for 2020.
Save the dates:
17 - 19 August, Michael Fowler Centre, Wellington
INVOLVE is the national youth health and development conference in Aotearoa.
It's a space for the youth sector to come together to connect, share, learn, grow and celebrate our diversity and strengths. We gather from all over the motu, representing a variety of roles that work alongside our taiohi – youth workers, counsellors, GPs and nurses, mentors, researchers, advocates... we're all in this waka together!
The theme for INVOLVE 2020 is...
Our Waka, New Seas.
With what's in our waka, together we navigate new seas.
The theme for INVOLVE 2020 focusses on the changes we see approaching the youth sector and for the taiohi of Aotearoa. It also looks at the skills, tools, wisdom and connections we have to meet these changes – including the histories that inform us.
We are excited to be in this waka with you!
INVOLVE 2020 will be bought to you once again by a collaboration of four organisations: Ara Taiohi, the New Zealand Youth Mentoring Network, the Society for Youth Health Professionals and The Collaborative Trust.
We will be providing regular updates on this website and you may also like to check out the Ara Taiohi website. It has a wonderful snapshot of our last Involve 2018 conference which should give you a idea of what to look forward to next year.